Tinted Sunblock 30+ SPF
Regular price
$50.00 USD
Sale price
$25.00 USD
Unit price
per
Sale
Sold out
Tinted Sunblock 30+ SPF with Growth Factors and Exosomes
50 ml | 1.0 fl. oz.
Introducing our revolutionary skincare marvel: a lightweight tinted formula that effortlessly blurs fine lines and wrinkles. Its universal tint caters to all skin tones, leaving you with a radiant and healthy glow. Say goodbye to the white-cast dilemma commonly experienced with mineral sunscreens.
Our specially formulated tinted sunblock provides effective SPF 30+ coverage to shield your skin from harmful UV rays. Enjoy a natural, even complexion while ensuring your skin is protected against sunburn and premature aging.
Enriched with potent ingredients, our tinted sunblock supports the health and vitality of your skin. It harnesses the power of carefully selected elements to enhance your skin's natural radiance and youthfulness.
Experience the power of age-defying skincare as our product effectively delays premature aging and shields your skin from harmful sunburns. With its advanced formulation, it not only provides maximum moisture to your skin but also harnesses the potential of growth factors and exosomes. These exceptional ingredients work synergistically to invigorate and regenerate your skin, leaving you with a revitalized and youthful complexion. Suitable for all skin types, it's a true game-changer in your skincare routine.
Embrace the future of skincare. Unleash your skin's potential with our cutting-edge formula. Start your journey towards a more radiant you today.
Discover the incredible benefits of our exceptional skincare product:
Advanced Sun Protection: Shield your skin from harmful UVA and UVB rays, preventing damage and maintaining its youthful appearance.

Age-Defying Formula: Combat the signs of aging with our powerful formula that helps prevent the appearance of expression lines and facial dark spots, promoting a more radiant complexion.

Firm and Lifted Skin: Say goodbye to sagging skin! Our product is specifically designed to improve skin elasticity and firmness, helping you maintain a more youthful and lifted look.

Cellular Rejuvenation: Experience the revitalizing effects of cell biostimulation as our product promotes the natural production of collagen and elastin, essential for a resilient and supple complexion.

Intense Hydration: Enjoy maximized hydration with our deeply moisturizing formula, ensuring your skin stays nourished and plump for a fresh and healthy glow.

Refreshed Skin: Revel in the sensation of renewed skin freshness as our product invigorates and revitalizes your complexion, restoring its natural vitality.

Gentle and Safe: Our non-irritating formula is carefully crafted to provide effective results without compromising your skin's comfort. Feel confident in using our product for a gentle yet powerful skincare experience.
How to use
Tinted Sunblock should be applied at least 30 minutes before going out into the sun.
Distribute a sufficient quantity on ​​all areas exposed to sunlight (face and neck)
To maintain protection, we recommend repeating the application of ENTICE TINTED SUNBLOCK every four hours, especially in situations of sweating, bathing or drying.
Share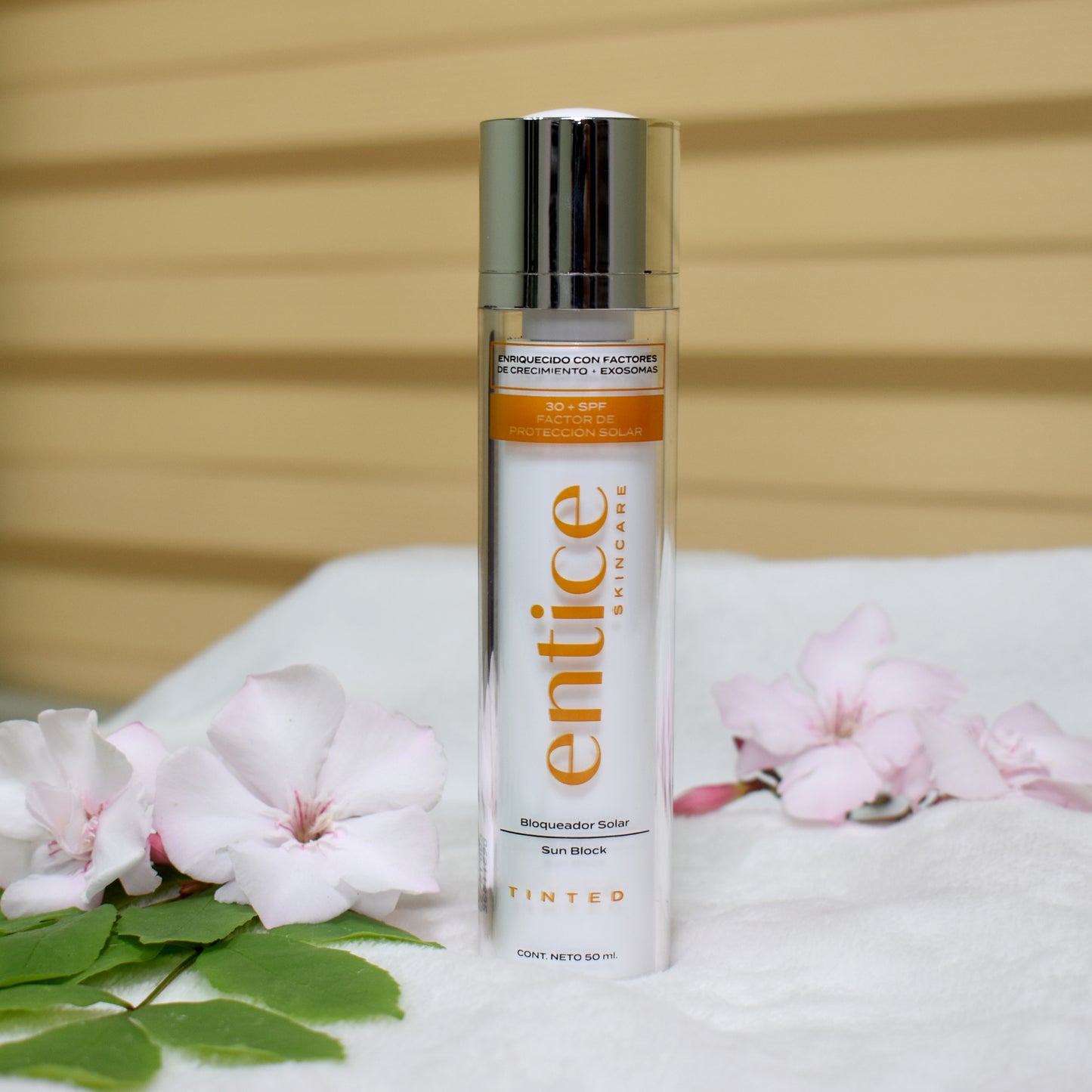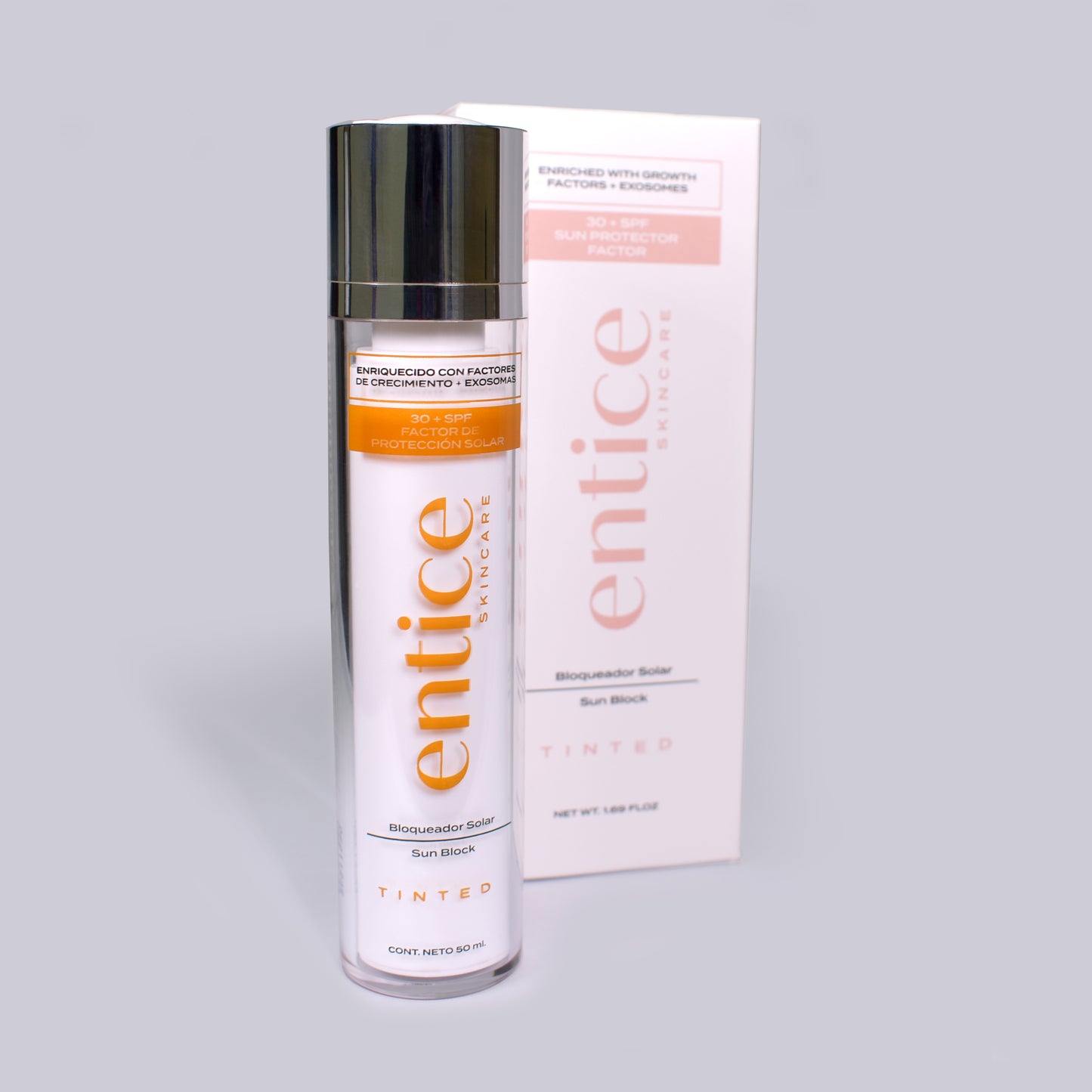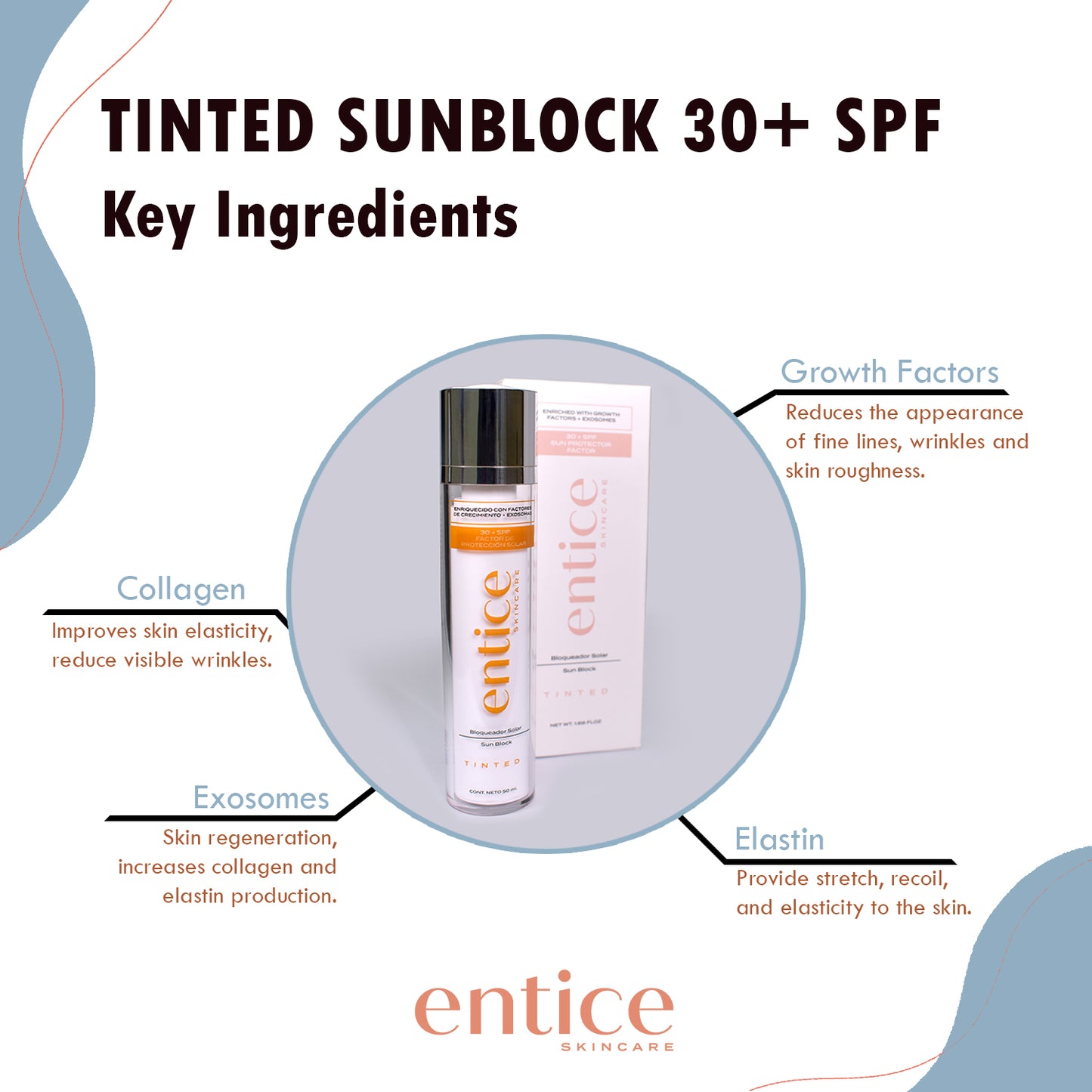 WELCOME TO ENTICE SKINCARE
We care about your skin health.We are committed to help you find the perfect treatment for your skin type, if you need help with choosing your products, contact us, and we'll try our best to help you!
Growth Factors
Growth factors promote the formation of collagen and elastin to provide firmness and elasticity. And that's what we all want, don't we? But... What are growth factors? How do they work?...

FIND OUT HERE IN OUR BLOG